We say this every time we release a new version of ShieldPRO, but this is definitely our most exciting release of Shield for WordPress, ever.
We're introducing serious features to combat the non-stop bot-thrashing of our WordPress sites. No other WordPress security plugin has taken this problem seriously to-date, and we intend to do all that we can to stop them.
As always, we highly recommend you review the implementation details for this release in the Shield 11.0 Upgrade Guide.
Let's dive into the new features with ShieldPRO v11.
#1 WordPress AntiBot Detection Engine (ADE)
We go into full details here about what this is and how it works. But here's a brief overview:
To hack 30,000+ websites every day, WordPress site hacking needs to be automated. And that's where bots come in.
Bots are constantly hammering our sites. Either probing for vulnerabilities, sending login requests, or whatever else they need to do to get a foot-hold on our WordPress sites.
If we can detect bad bots, we can stop them. The challenge comes in being able to detect them with accuracy, as they use many different ways to mask their appearance.
ShieldPRO 11 comes with our exclusive, not-seen-anywhere-else, AntiBot Detection Engine (ADE).
Its sole purpose is to detect bad bots and then allow Shield to block them when they make requests such as user login or user registration.
Detecting bad bots makes your WordPress sites more secure and lets you remove CAPTCHAs and other form protections that ruin the Visitor Experience.
#2 Remove CAPTCHAS and Checkboxes (Finally!)
With Shield's AntiBot Detection Engine, we can now remove hCAPTCHA, Google reCAPTCHA and Shield's "I'm a human" checkbox from our login and user registration forms.
You can do the same for WP comment forms too.
With ShieldPRO v11 we don't remove them by-default, but offer the option to replace them with our ADE. We'll remove them at a later date.
#3 Block Contact Form SPAM (Finally!)
One of our most requested features was to add our anti-spam system to Contact Form 7, and other form plugins.
But the technical challenge involved there was always greater than we liked due to the ever-changing nature of these plugins.
With ADE letting us remove frontend user additions such a CAPTCHAs, integrating with these contact forms is much more practical.
With this release, ShieldPRO intregrates with 9 of the top WordPress Contact Forms to block SPAM submissions:
If your form isn't listed here let us know and we'll look at integrating.
Whether we can or can't integrate a form provider depends very much on their implementation.
#4 CSV Download/Export of Databases
We've been asked for this a number of times, but we had a few database improvements we needed to make before this was going to be straight forward to do.
With this release of Shield Security for WordPress, you can download:
All Traffic data as CSV
All Audit Trail data as CSV
All IP data as CSV
We'll likely offer filters and other download formats in the future, but in order to get this functionality into the plugin, we've kept it simple and straightforward for now.
#5 Return of Stats Charts and Custom Charts
In an earlier version of Shield, we had a few simple charts available to illustrate how effective Shield was on the site.
We're bringing these back, along with a custom chart option so you can see the stats of all Shield events and actions taken on your site.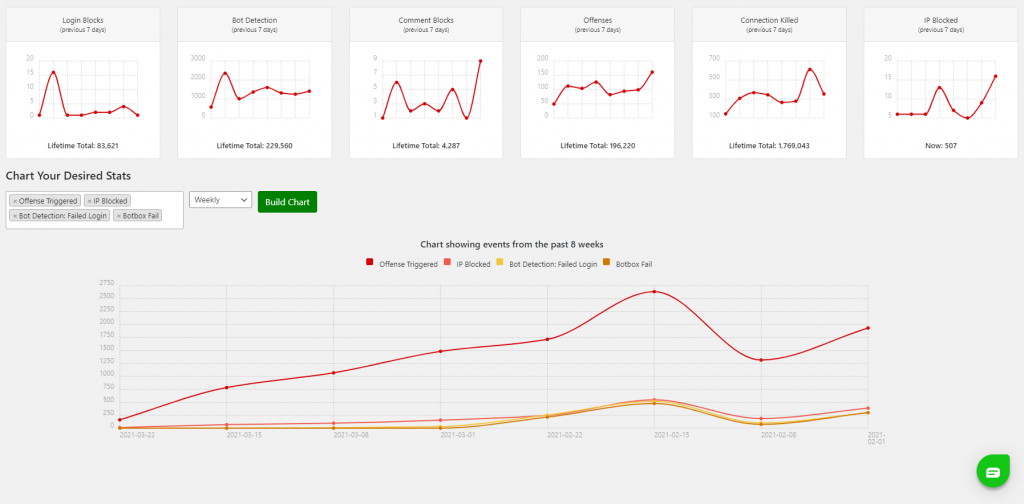 #6 Major Code Cleaning and Enhancements
Since our move to PHP 7.0, we've been aggressive in our code cleaning, enhancements, and moving our codebase to Strict PHP Standards.
This allows us to catch potential bugs far earlier in the development process before they would ever reach a live site.
Some enhancements we've made:
Comments, Suggestions and Questions
There are many reasons to be excited about this new ShieldPRO release. and we can't wait to get it into your hands.
There will certainly be some confusion and question over this new feature, so please do feel free to drop us a comment below and we'll update the article wherever necessary to clarify any issues.
Thank you as always for your support!
ShieldPRO Testimonials
@knight287
Great Plugin
Works well but after the recent update, the interface is messed up.
@thenazman
Works great
Simple to instal and works well. I particularly like the fact you don't get annoying emails every day (such as with Wordfence).
@mickeyroush
Works as Described
Plugin works as described. Add it to your arsenal now. 🙂
@stevenw123
Siteground conflict
Hi, I've enjoyed using your plugin for two years or so, but I've just moved to Siteground for my hosting and I'm getting endless problems. Shield logs me out every couple of minutes and makes me log back in, even though I'm working on the site, so it is not…
Hey there gorgeous! Do you like what you've read here? :)
If this cool feature is something you'd like, but you haven't gone PRO yet, click here to get started today. (no risk, with a 14-day satisfaction guarantee!)
You'll get all PRO features, including Malware Scanning, WP Config Protection, Plugin FileGuard, import/export, customer support, and so much more. Not only that, you'll get that warm, fuzzy feeling that comes from supporting our work and future development.