Visitors to your websites like to know that the website or service they're using is secure. It's important to let them know you take your security, and theirs, seriously.
With this in mind, we give users of the Shield plugin the opportunity to display the "Plugin Badge". This will add a small badge to the front-facing website to demonstrate to visitors that their websites are protected by the Shield Security plugin.
The Plugin Badge Is Optional
Displaying this plugin badge is completely, 100% optional.
It is not enabled by default, and you are free to remove it at any time if you either don't like it, or it interferes with your website.
To enable or disable the plugin badge:
Go to General Settings (for the Shield Security)
Check or Uncheck the box for the option as desired.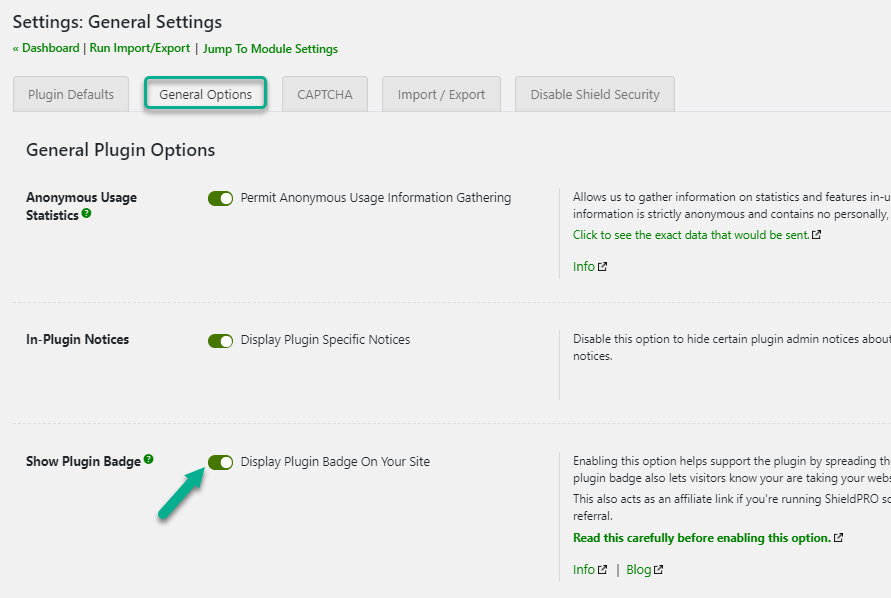 What will the plugin badge look like?
The badge is very simple – it will be placed on the bottom-left of the page, with the plugin logo and a line of text. It will link back to a landing page outlining features of the plugin and a link to WordPress.org to download it.
The image shown here is how it will look.
Why would you want to display the plugin badge?
This serves 3 primary benefits:
It lets visitors know that the owner of the website is taking security and protection seriously.
Visitors will know that the website is secured through various mechanisms and they're much less likely to be compromised themselves.
It helps promote the plugin to users who haven't yet considered WordPress security, or users who are looking for WordPress security alternatives.
It acts as an affiliate link if you're running ShieldPRO so you can earn rewards for each referral.
How to use Shield plugin badge to earn affiliate rewards
ShieldPRO customers are able to earn affiliate commissions (15%) when they recommend a plugin to other people. Also, unlike other referral schemes that only give you once-off rewards, our referrals are for life.
We've automatically integrated your affiliate referral IDs in the Shield Plugin Badge, so that for any visitor that clicks the badge on your sites and goes on to purchase ShieldPRO, you'll get the affiliate reward for this.
All you need to do is complete the registration form, and turn on the plugin badge on the sites you'd like to promote. Your sites will then be setup for automatic referral links using the plugin badge.
We go into all the details here.
Feedback and Ideas
If you like this little option, or you don't, please let us know. We are happy to hear what our users think about this and if you have any ideas on how you would to see it implemented better, please tell us.
Thank you!
ShieldPRO Testimonials
@traceybarron
Fantastic Plugin with great support
I've used this plugin on many sites for some time now. It's fantastic. Not only has it helped keep out any security threats, it's a great way to check the audit trail of what's been going on on our sites. It's super configurable too. The support is great as well.…
@indigobleu
It's the best and tried the rest
I tried most popular security products for my WordPress site and have had one problem after another. Simple Firewall worked the best, easy to configure even for a novice and didn't take over unnecessary functions like the others did. You also don't need a separate comment program when you have…
@auralsolutions
Simple to use, but powerful and full featured
This plugins allows all of our sites to be secured against attacks and it does it pretty well. It's not difficult to configure and has many very good protection layers for your WordPress intall. Really recommended.
@pjpsoft
security is a must
the best one I have tested for a great price
Hey there good-lookin'! Do you like what you've read here? :)
If this cool feature is something you'd like, but you haven't gone PRO yet, click here to get started today. (no risk, with a 14-day satisfaction guarantee!)
You'll get all PRO features, including Malware Scanning, WP Config Protection, Plugin FileGuard, import/export, customer support, and so much more. Not only that, you'll get that warm, fuzzy feeling that comes from supporting our work and future development.