The sun peaks through the morning clouds, and once again, it's time to get ready for another day. As you grab the last of your things, and maybe down an extra cup of coffee, you head out into the world.
While we all have our unique rituals, most of us perform one universal duty before climbing into car or strolling to the train station. In the final moments of this morning dance, we turn around, slide our key into the deadbolt and twist it secure.
Leaving your house without locking the door is common knowledge. After all, you want to protect both the living beings and material possessions within its walls. So why aren't you doing the same for your digital home?
Overall, most website owners simply don't grasp the seriousness of cyberattacks. They think,
Why would anyone want to hack into my small website?
On the surface, this mindset seems fair. When giant online retailers and sprawling eCommerce enterprises are hacked, it makes sense to us. They store massive amounts of data within their infrastructure of web servers.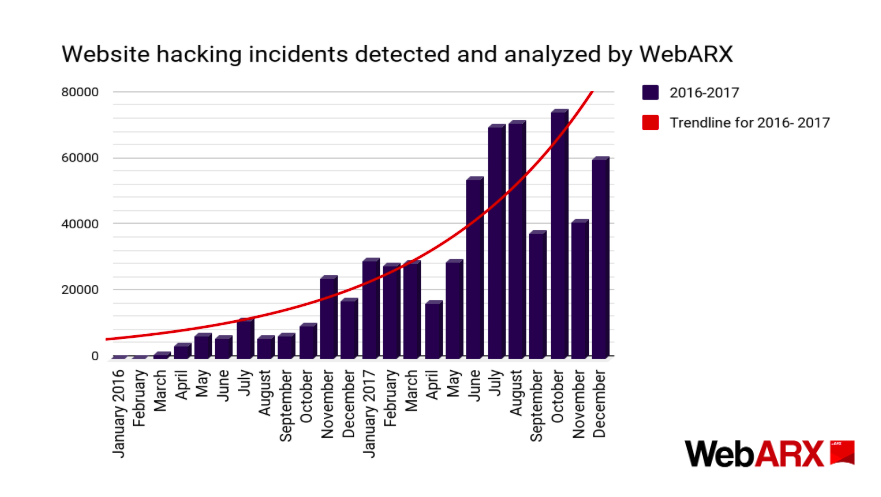 Unfortunately, the truth of cybersecurity is far more unsavory than you may know.
Good Website Security Protects More Than Your Information
If you think safeguarding your website is mostly about securing your personal information, you better think again. Stealing your financial data and passwords is definitely a goal for most cyberattacks, but this is only a single thread in the tapestry of information and data theft.
Let's take a brief look into the toxic waters of cyberattacks to see how even a single security breach can impact your website.
Google Rankings
Google Rankings – Did you know Google judges your site security as part of its SEO ranking algorithm? In an unprecedented move, Google demonstrated the invaluable nature of security by stating SSL certificates are used to signal ranking potential.
Online Reputation
Online Reputation – Internet users are notoriously fickle. In most cases, even the slightest hint of malicious activity can permanently damage your reputation. When an actual attack is carried out, you can imagine the impact this has on current and future business.
Website Performance
Website Performance – Some cyberattacks aren't geared toward stealing information. Instead, they're intended to literally shut your site down. From DDoS attacks to reconfiguring database files, these security threats can transform your website from speedy to sluggish to offline.
This is only a taste of the damage caused by cyberattacks and raises the important question:
How can you secure your website against the ever-evolving cybercriminal?
Strengthening website security is as easy as 1, 2, 3, 4
Of course, successful security measures require far more than four steps, but these four steps establish an solid foundation of protection.
While you may have needs specific to your website design and purpose, the following tips are universally powerful in the fight against cybercriminals.
Step One – Web Host Security
Before your website sees the digital light of day, you must first decide on a hosting provider. This is, in many ways, the gatekeeper between your vision and your readers.
While there's an incredible amount of information available when it comes to choosing a web hosting provider, let's narrow our focus on security.
In the most simplified explanation, web host security features determines the success for each of the following steps. Needless to say, this is a huge decision. Beyond specific technical requirements that are unique to your website, here are the most essential security features a web host must offer:
Consistent Backups and Restoration
Consistent Backups and Restoration – Always review the backup policy of any web host. Ideally, backups are automatic and performed on a regular basis. Backup files should be kept on a separate web server and restoring a site should be effortless.
You can use one of the WordPress backup plugins for this. One of them is WorpDrive. This WordPress Backup system is designed specifically to be independent of your web hosting. Instead of running your WordPress backups on your servers, they run it on theirs.
Firewalls, SSL and DDoS Protection
Firewalls, SSL and DDoS Protection – Thankfully, these fundamental security features are commonplace with most web hosts.
You should also know that nearly every single web request, ever, looks up DNS and says "where is the server, where should I look to to find this server?". If the server has any problems, all services go offline: your email, your DNS, your website… everything, will be affected.
To mitigate the risk, best thing you can do is to put your domain name on a Cloudflare. Getting your DNS on CloudFlare makes your DNS reliable, makes whatever services you run on your domain name (email, your website, or anything else) much more reliable and secure.
Server Antivirus Features
Server Antivirus Features – This is especially important for shared hosting plans, which is when your website shares a physical server with others.
Step Two – CMS Security Measures
Content Management Systems (CMS) offer a quick and easy way to build an attractive website. Unfortunately, they're also a favorite among cybercriminals. WordPress, for example, is one of the world's leading CMS systems and powers over 30% of all websites.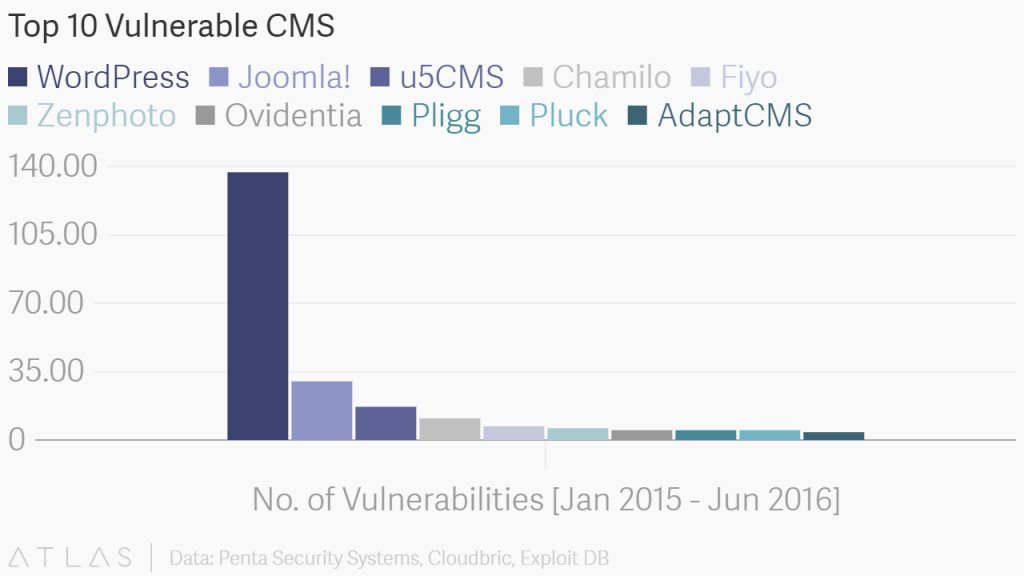 Although it provides a stable environment for dynamic websites, it's also the most vulnerable to attacks.
Perhaps one of the most important security steps has to do with plugins. WordPress plugins are awesome additions to any WordPress site, but if you're not careful, they can be literal open door for cybercriminals if they're not well maintained. Only use plugins from trusted developers.
Best security measure you can take is to add security plugin to WordPress. For example, Shield Security has the highest average rating for any WordPress security plugin. Easy-to-setup, but powerful protection blocks attacks and suspicious activity.
Step Three – Monitor Website Activity
Don't be an ostrich website operator. This is someone who doesn't take the time to thoroughly investigate and monitor online activity. Failure to pay attention to the current status of web servers, database health and website pages are some of the biggest mistakes you can make.
There are literally hundreds of free and premium monitoring tools. The best one for you depends on your website architecture. If you rely on basic coding, then a free tool will likely work. However, if you use PHP, like in an AJAX contact form, then you'll need a more robust monitoring tool.
One of the monitoring tools you can use is iControlWP Uptime Monitoring. If your website is down, you'll get an immediate notification.
Another tool you can use is the Traffic Watcher system in Shield Security plugin. You can review your WordPress website traffic and any requests made to your WordPress website.
Step Four – Remain Vigilant
While not a specific tip, this is the most valuable protection any website can have. Remaining vigilant means staying updated with the latest trends in cybersecurity, as well as new and potential threats.
Although you may not think of yourself as a security professional, this is a hat all webmasters must wear.
From investigating and appraising the best web hosting provider to establishing a secure WordPress environment, website security is the most important weapon in your digital arsenal.
Final Thoughts
With the omnipresent danger of being hacked and the ease with which many preventative measures (such as the ones just discussed) can be implemented, we implore you to take this seriously and don't make it easy for these cyber bad guys to create chaos, because they certainly will, sooner or later. Of course, there are other steps to take to secure a site, but this will give you a good front line defense.
Thanks for reading and good luck! 🙂
Hey good-lookin'!
If you're curious about ShieldPRO and would like to explore the powerful features for protecting your WordPress sites, click here to get started today. (14-day satisfaction guarantee!)
You'll get all PRO features, including AI Malware Scanning, WP Config File Protection, Plugin and Theme File Guard, import/export, exclusive customer support, and so much more.
ShieldPRO Testimonials
@hyerbon
Excellent plugin
A great plugin to batten down the hatches. Feel safe.
@grandt
Simple Firewall Plugin
This plugin makes the best protection overall I've tried a lot of security plugins, but this one does not force you to upgrade to a pro version. And why should it? I'ts already a Pro version! For Free! I can't think of any other plugin where you get so much…
@akur
Simple but Effective, Love so much !
It's Clear Enough, Rate 5 this Plugin! You too…
@daviesda
Reliable and secure
I'm a little paranoid these days about the security of my WordPress sites after getting badly hacked a year ago. I look after several installations of WP and I now have WordPress Simple Firewall running on all of them. After a couple of months of use I'm totally confident in…